If you are looking for a multiple monitor setup with 4K monitors, these 27-inch monitors are your best bet. They are big but not too big that it becomes overwhelming when you have more than one. Even if you are looking for a single 4K monitor setup to work from home (WFH), connecting up your laptop to add a bigger and higher resolution screen will help you do that while taking very little space on the desk.
With Working from Home (WFH) becoming the norm, users are looking to add a second screen to their laptop. These 4K Ultra HD monitors provide the biggest 'real estate' in virtual desktop space to accommodate multiple apps, allowing them to appear side-by-side. This greatly maximises productivity.
Don't get me wrong, laptop screens are great, but sometimes, you just wish you have that extra display to extend your desktop and push secondary apps into. With two or more apps/windows showing at the same time on different screens, you stop having to swap apps or view them in turns to get to what you need. Saving time and increasing productivity.
Top 10 Best 27-inch 4K Ultra HD Monitors
Let's take a closer look at our line-up.
1. HP U27 Wireless 4K Ultra HD 27-inch IPS LCD Monitor –

WIRELESS CONNECTIVITY
4K Ultra HD 3840 x 2160p
IPS LCD panel, Brightness: 300cd/m², Contrast Ratio: 1000:1
Refresh rate: 60 Hz AMD FreeSync
Response time: 5 ms
Input: HDMI / DisplayPort, USB3.2 x 3. Disable power saving mode to enable WiFi.
Built-in speakers, Swivel, Height and Tilt Adjustable Stand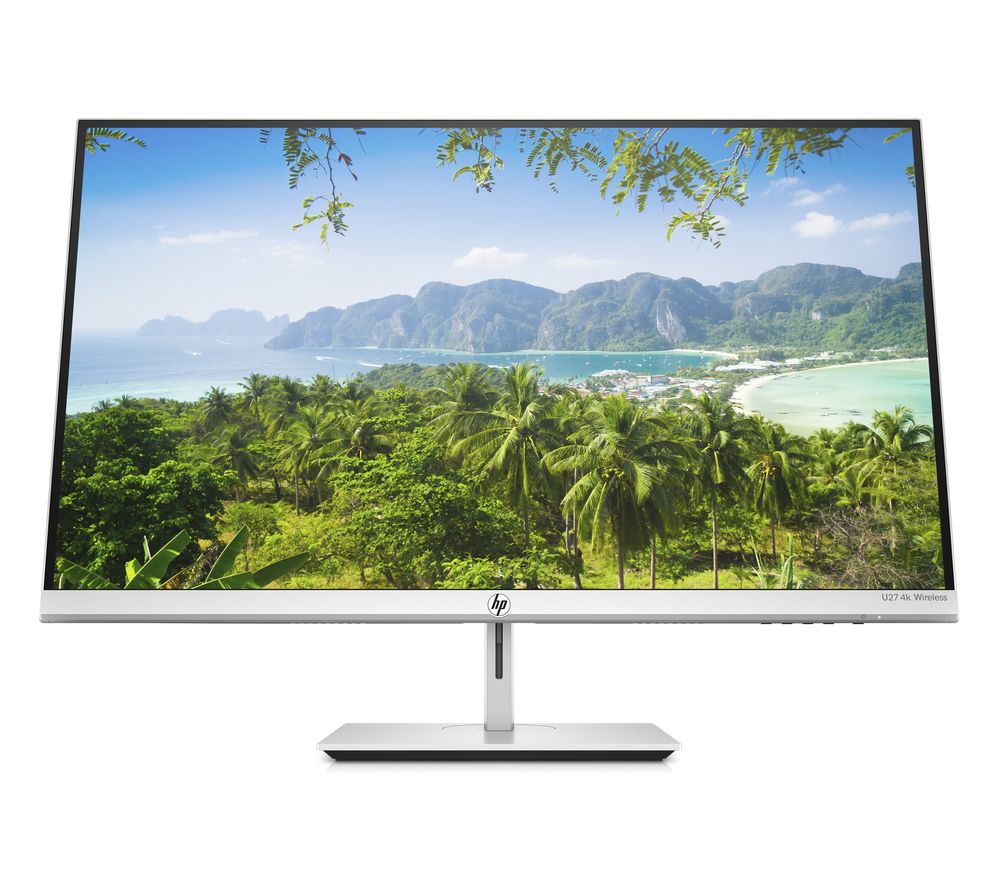 Kicking off our list is this HP U27 Wireless 4K Ultra 27-inch monitor. As its name suggest, you can download HP Quick Pair App from Windows store to your laptop, connect to the monitor via Bluetooth or WiFi Direct connect and start casting your screen wirelessly. There is of course the slight lag with wireless connectivity but we were promised 3x improved latency and the ability to stream 4K content and share high resolution images. With all minimum requirements met; Windows OS version, Wi-Fi 802.11ac, Intel Core i5 class processor and at least 8GB memory, you should be able to enjoy Ultra HD 4K wireless streaming or instantly extend the laptop display for a second screen completely cable free.
The high resolution IPS LCD panel is enclosed in 3 sided borderless chassis with minimal bezels bringing it up to date with modern monitor designs. You will truly appreciate the edge-to-edge glass panel and its ultra slim design. Accented by a silver bar at the bottom bearing the HP logo, monitor is mounted on a height, tilt and swivel adjustable stand which makes it super user friendly. For wired connections, you get the legacy Display Port 1.2, the HDMI port and three USB-A 3.2 Gen 1 ports. For a more reliable connection, use the HDMI port. WiFi connectivity issues reported by users include reconnecting from sleep at 1080p instead of 4K resolution and unreliable audio feed. For the occasional video sharing and presentations, it should work fine.
2. PHILIPS 278E1A 4K Ultra HD 27-inch IPS LCD Monitor –

ALL-ROUNDER
4K Ultra HD 3840 x 2160p
IPS Panel, NTSC 91%*, sRGB 109%* colour gamut, Brightness: 350cd/m², Contrast 10100:
Response time: 4 ms
Refresh Rate: 60Hz, AMD FreeSync
Input: HDMI x2 / DisplayPort x 1, headphone out
Built-in speakers
Can be wall mounted, Tilt stand only.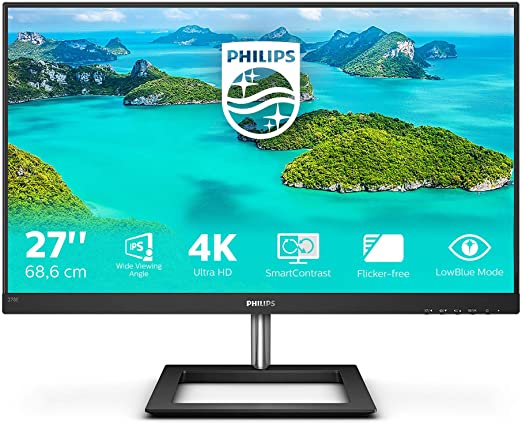 Search PHILIPS 278E1A on Amazon
Brightness rating is higher on this Philips 278E1A monitor at 350 cd/m² with Mega Infinity DCR SmartContrast, keeping the black and dark hues deep while dynamically adjusting the backlight intensity to match the content for better colour and brightness. This allows the display to cope well even in a brightly lit room. We are again looking at a clean and modern monitor with minimalist stand that includes cable management and near zero side and top bezels.
Philips also offer SmartImage game mode that you can access via on-screen display to change game modes from FPS (First Person Shooter), Racing to RTS (Real Time Strategy). Two addition settings slots; Gamer 1 and Gamer 2 are also available to save your personal settings. For business and professional users, the wide colour gamut and IPS wide viewing angles ensure that the picture is best represented on screen. Flicker free and Low Blue mode come as standard to avoid eye fatigue and reduce harmful shortwave blue light from damaging your eyes.
3. LG UHD 27UL550 27-inch 4K UHD Monitor –

BEST FOR ERGONOMICS
4K Ultra HD 3840 x 2160p
IPS Panel, HDR, sRGB 98% colour gamut, Contrast: 1000:1
Refresh rate: 60 Hz AMD Radeon FreeSync
Response time: 5 ms
Height and Tilt adjustable. Pivot to 90% (portrait), VESA 100×100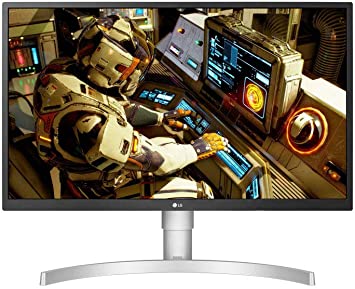 Search LG UHD 27UL550 on Amazon
The UL550 is showing is age with those slightly chunkier bezels. But the IPS panel does not disappoint offering wide angle viewing, vivid colours and uniform grey. It also support HDR (High Dynamic Range) which works nicely with major gaming consoles and streaming videos. As with the Philips above, the LG 27UL550 offers AMD Radeon FreeSync technology support and Game Mode. The latter lets you switch between preset game modes; FPS, RTS and other custom modes. High 4K resolution and wide colour gamut up to 98% coverage on the sRGB spectrum another practical reason for choosing the UL550 is its ergonomic stand.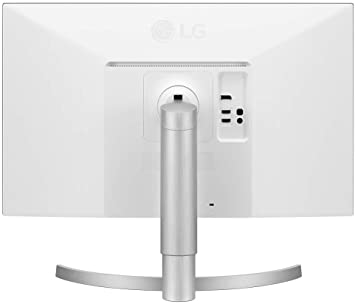 It has a big tilt back angle, is height adjustable and can be pivoted to switch between landscape and portrait modes all while keeping the monitor steady and stable. If you are one to add multiple monitors side by side, the newer 27UP650 is one to go for. It has much smaller top and side bezels, still supports HDR including VESA DisplayHDR 400 certification for the widest possible brightness, contrast and colours (up to sRGB 99%). Plus it supports Black Stabiliser to spot your in game enemies even in the dark.
ALSO: LG Electronics UHD 27UP650 27-inch Monitor-IPS (4K 3840×2160, DCI-P3 95%, VESA DisplayHDR 400, AMD FreeSync)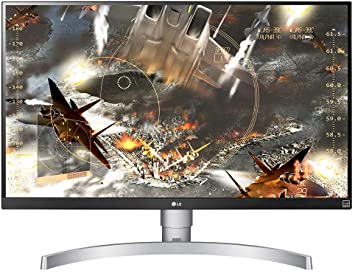 Search LG UHD 27UL650 on Amazon
4. PHILIPS 276E8VJSB
 27-i
nch 4K IPS Monitor –

GENERAL PURPOSE
4K Ultra HD 3840 x 2160p
Brightness: 350 cd/m2, Flicker Free LowBlue Mode, Flicker Free, MultiView PIP/PBP from 2 sources
Refresh rate: 60 Hz
Response time: 5 ms
Input: HDMI x 2, DisplayPort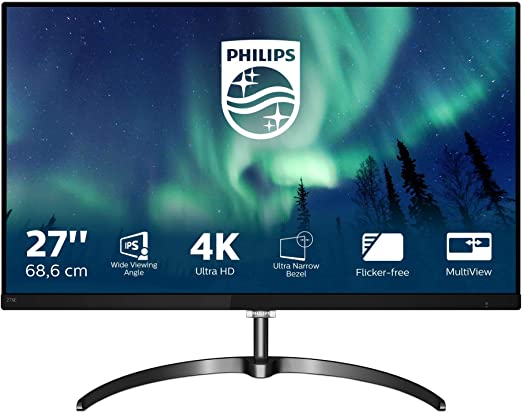 Search Philips 276E8VJSB on Amazon
With its updated stand, this time, one that resembles a crescent, the second Philips still look as sleek as ever. It's ultra narrow bezel (top and sides) wrapping the 4K Ultra HD IPS panel is available at a reasonable price making it a favourite for those looking to buy two or three of these to form a must-display setup. The panel is capable of the same brightness as earlier model at 350cd/m2, displaying vivid colours with plenty of contrast.
The screen is perfect for professionals and the average users working on CAD and 3D graphics to spreadsheets and graphs. This brings us to the next feature, the ability to show multiple video sources on the same displays. With MultiView, the monitor can display two different sources in Picture in Picture (PIP) or Picture by Picture (PBP) mode. What it misses out are the support for HDR, AMD FreeSync, VESA mount and built-in speakers.
5. ViewSonic VX2776-4K-MHD 27-Inch IPS 4K Ultra HD Monitor
4K Ultra HD 3840 x 2160p
HDR10, Eye Care (Flicker Free and Blue Light Filter)
Refresh rate: 60 Hz
Response time: 5 ms
Input: 2 x HDMI, DisplayPort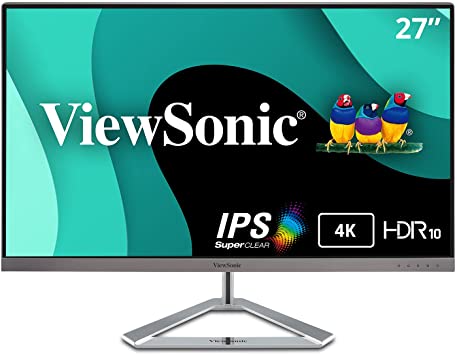 Search ViewSonic VX2776-4K-MHD on Amazon
This ViewSonic 4K monitor stands out from the rest with its modern design, minimalist stand and radical base. And by modern design, we mean the near zero (2.2mm) top and side bezels, nearly frameless, ultra slim (6.6mm) side profile and triangular stand. Based on IPS technology, the panel is capable of clear and bright image no matter the viewing angle.
It also supports HDR10 content so you can enjoy your streaming video with more contrast and brighter colours. Even with its compact design, it manages to squeeze in a pair of speakers but don't expect much from it. Finally, for the office users, the monitor features flicker free technology and well as Blue Light Filter to help eliminate eyestrain.
6. IIYAMA ProLite XUB2792UHSU 4K Ultra HD 27-inch IPS LCD Monitor –

HA & PIVOT STAND
4K Ultra HD 3840 x 2160p
IPS LCD Panel, Brightness: 300cd/m2, Flicker Free and Blue Light Reducer, Contrast Ratio: 1000:1
Response time: 4 ms
Refresh Rate: 60Hz, FreeSync
Input: HDMI / DVI / DisplayPort / VGA, USB x 2
Built-in speakers x 2, headphone out
Height adjustable and pivot stand, VESA mount compliant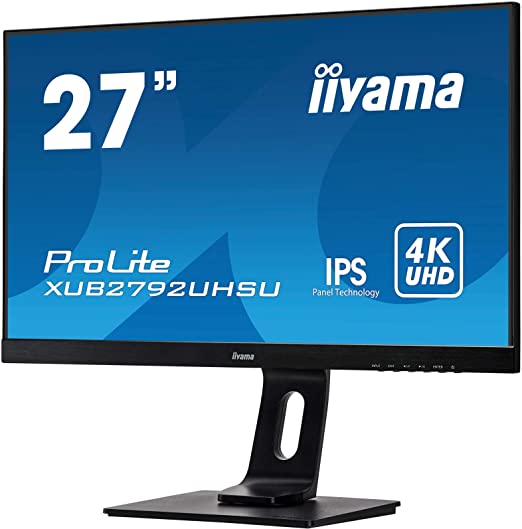 Search iiyama XUB2792UHSU on Amazon
An office favourite, the IIYAMA ProLite 92 series has every connectivity options you can ever think of. These include the legacy DisplayPort and VGA as well as the more modern HDMI and DVI. While the stand is all plasticky and not quite a looker as some of the other more modern entries, it offers stability and is height adjustable as well as pivots too.
Moving to the panel, we see a more modern approach to its design. Wrapped in super slim bezel, top and sides, it's ideal as part of a multi-monitor setup. The bottom bezel is slightly taller, carries the logo and house quick access control buttons which are clearly labelled. And, as all office unit should be to maintain comfort and healthy eye sight, is the inclusion of flicker free technology and blue light reducer.
7. DELL S2721QS 4K Ultra HD 27-inch LCD Monitor –

HA & PIVOT STAND
4K Ultra HD 3840 x 2160p
HDR Playback, IPS Panel, 99% sRGB colour coverage, ComfortView
Response time: 4 ms
Refresh Rate: 60Hz, AMD FreeSync
Input: HDMI / DisplayPort
Built-in speakers dual 3W speakers
Input: 2x HDMI, DisplayPort, PIP and PBP support
Height adjustable and Pivot stand, VESA 100×100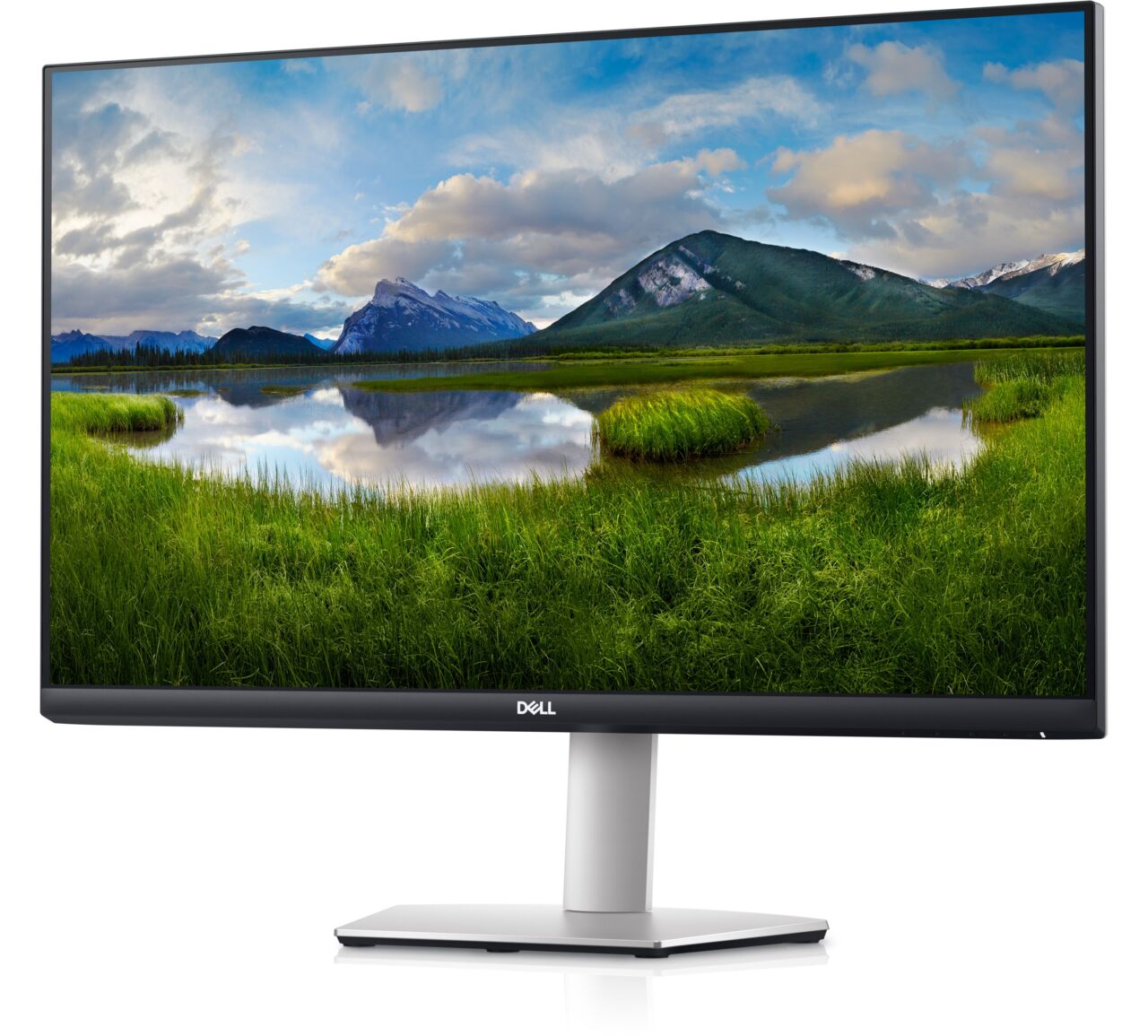 The Dell UltraSharp U2720Q is a 27-inch 4K display with USB-C connectivity. This Dell S2721QS however is the more affordable monitor minus USB-C port yet still supports two simultaneous video source in either Picture in Picture of Picture by Picture mode. They also share the most flexible and ergonomic stand that not only tilt and swivel but is height adjustable and pivot too. The latter changes the orientation of the display from landscape to horizontal.
As for the 4K Ultra HD panel, it supports HDR content playback, great for entertainment and wide colour coverage, and important feature for creators and designer. Also, the dual HDMI input means you can switch between the work computer and game console without faffing about with the cable. Plus, the onboard dual 3W speakers is just about enough if you are not too picky.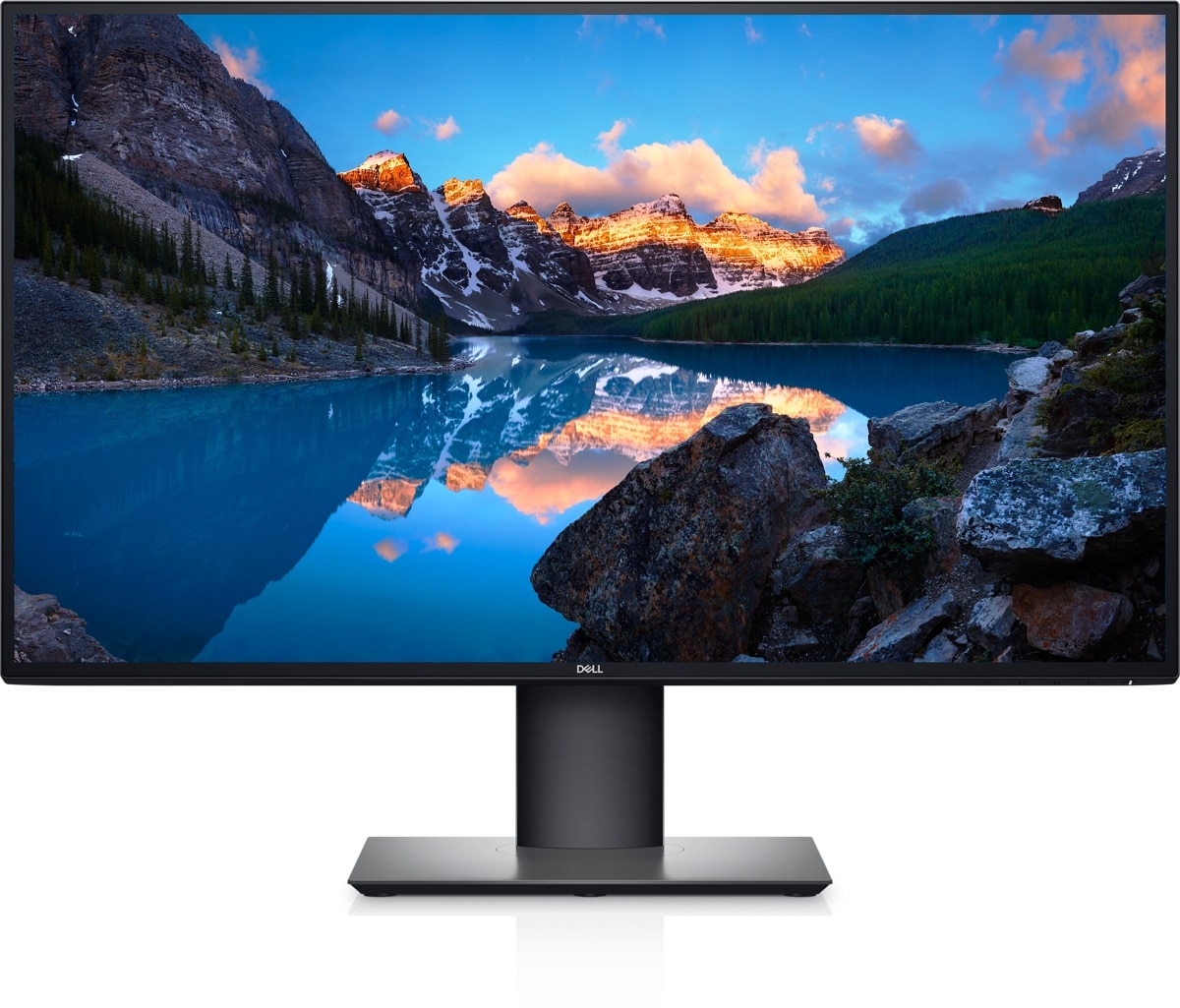 Search Dell UltraSharp U2720Q on Amazon
PREMIUM MONITORS
We switch up the 27-inch 4K Ultra HD monitors to a whole new level with the next two entries. These are professional and entertainment monitors that comes with USB-C connectivity that supports USB dock and charging apart from the standard HDMI and legacy DisplayPort. They also support a wide range of colours, covering up to DCI-P3 which is 25% more than sRGB colour coverage. Others support 100% sRGB and 100% Rec 709 colour coverage, factory calibrated to meet Pantone Validation.
8. BenQ EW2780U 27-inch 4K HDRi IPS Monitor –

INTELLIGENT FEATURES
4K Ultra HD 3840 x 2160p
HDRi, Eye-Care, Brightness Intelligence Plus tech, 5 key navigator, eye reminder
Refresh rate: 60 Hz
Response time: 5 ms
Dual 5 Watt speakers
Input: 2x HDMI, 1x DisplayPort, 1x USB-C connectivity and charging 60W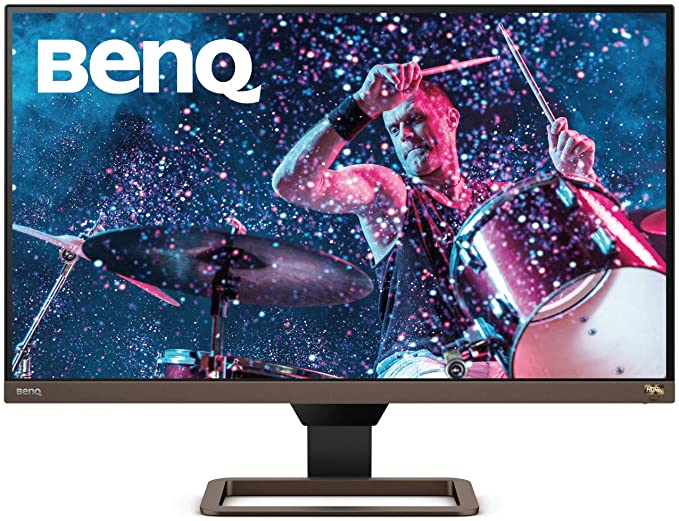 One of the more affordable 4K monitor with the convenience of fast USB-C input port is this BenQ EW2780U. It still has HDMI and DisplayPort but with USB-C connectivity, it means you can also charge your laptop while it is connected. The IPS Panel supports intelligent HDR for better contrast, clarity and vivid colours. While the panel also supports 99% sRGB colour gamut making it great for both work and play. To access the on screen menu, use the convenient 5 key navigation controls.
Features that allow the monitor to stand out apart from HDRi and wide colour coverage includes powerful dual 5W stereo speakers for True Tone sound with five different sound modes to choose from. The monitor also supports intelligent auto brightness, it detects the ambient light level and colour temperature to automatically adjust the brightness and colour temperature of your display. Then there is the infra-red sensor that picks up your presence, track your desk time and suggest breaks. Oh, and that convenient USB-C port also delivers power up to 60W to charge up your laptop while you are connected. A USB port hub would make it perfect.
9. ViewSonic VP2756-4K 27-inch LED monitor –

FOR CREATORS
4K Ultra HD 3840 x 2160p
IPS Panel, Brightness: 350

cd/m², Contrast 1000:1, Delta E<2 colour accuracy, Pantone validated, 100% sRGB and Rec.709 wide color gamut, Designer mode, Eye Care

Brightness: 350cd/m2, 1000:1
Refresh rate: 60 Hz
Response time: 5 ms
Integrated speakers 2 x 2W speakers
Input: 2 x HDMI, DisplayPort, USB-C, USB Dock
Height Adjustable and Pivot Stand (on top of tilt and swivel)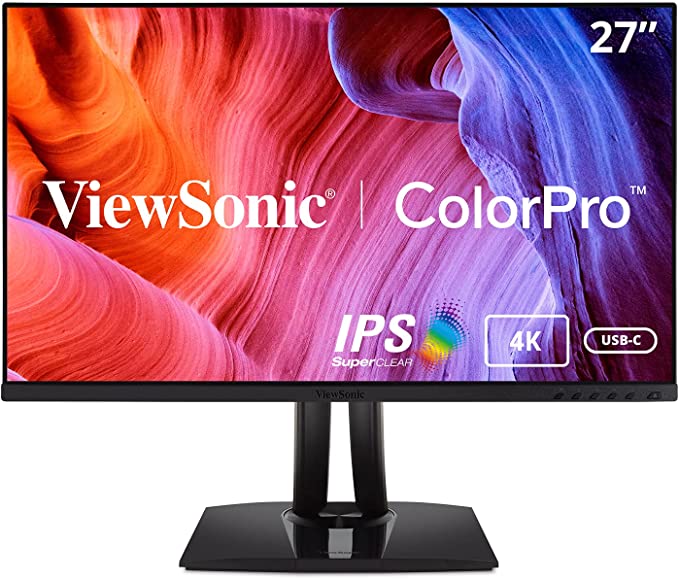 Search ViewSonic VP2756-4K on Amazon
This next entry has everything you can ever want or need from a professional monitor. The colour accurate and Pantone Validated IPS panel is wrapped in ultra thin almost borderless bezels. The monitor is then mounted on a cool ergonomic stand that goes beyond tilt and swivel to offer your pivot and height adjustments too. To add to its armoury for creators and designer is the vDisplay Manager that lets you set the display settings to cater to various colour deficiencies and blindness. An alternative to this factory calibrated to sRGB colour space is the more expensive panel that is calibrated to AdobeRGB, the VP2785-4K.
10. BenQ PD2700U 4K Ultra HD 27-inch IPS Monitor –

FOR DESIGNERS
4K Ultra HD 3840 x 2160p
Brightness: 350 cd/㎡, 100%sRGB and Rec. 709 and has Delta E ≤ 3, Pantone Validated and Verified by CalMAN, HDR10, Eye Care, AntiGlare, Designer modes.
Refresh rate: 60 Hz
Response time: 5 ms
Input: HDMI / DisplayPort
Built-in speakers, HA and Pivot stand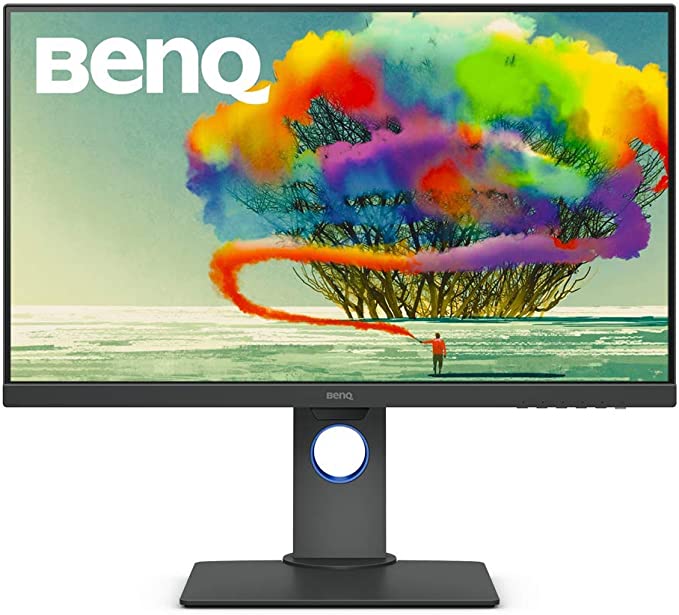 Another monitor made for creators and designers, the BenQ PD2700U is an Ultra HD monitor factory calibrated for colour accuracy. The IPS panel supports 100% Rec.709 and sRGB colour coverage. Designer focused, it comes with four preset modes for professional, darkroom, 3D animation and CAD/CAM. Other useful features including KVM controls, using one set of keyboard and mouse to control two systems and DualView setting two different preset modes side by side on one display. The only downside is it does not come with USB-C connectivity but this does help keep the cost down.