Computer cases don't just house the internal components of your PC. They also add ventilation for the CPU, GPU and power supply. Plus, they protect the other internal components allowing them to operate at optimum temperature. We some of the best budget gaming cases that you can buy.

PC cases with proper ventilation systems keep the internal components under threshold temperature especially when you are gaming. The competitiveness in today's market has made PC cases extremely affordable. And, when you considering gaming cases, there are quite a few options in the budget category. These are well under $150.
[ss_click_to_tweet tweet="Who says you can't have quality without a lot of money? Here are some extremely good gaming towers with good value for money quotients." content="Who says you can't have quality without a lot of money? Here are some extremely good gaming towers with good value for money quotients." style="default"]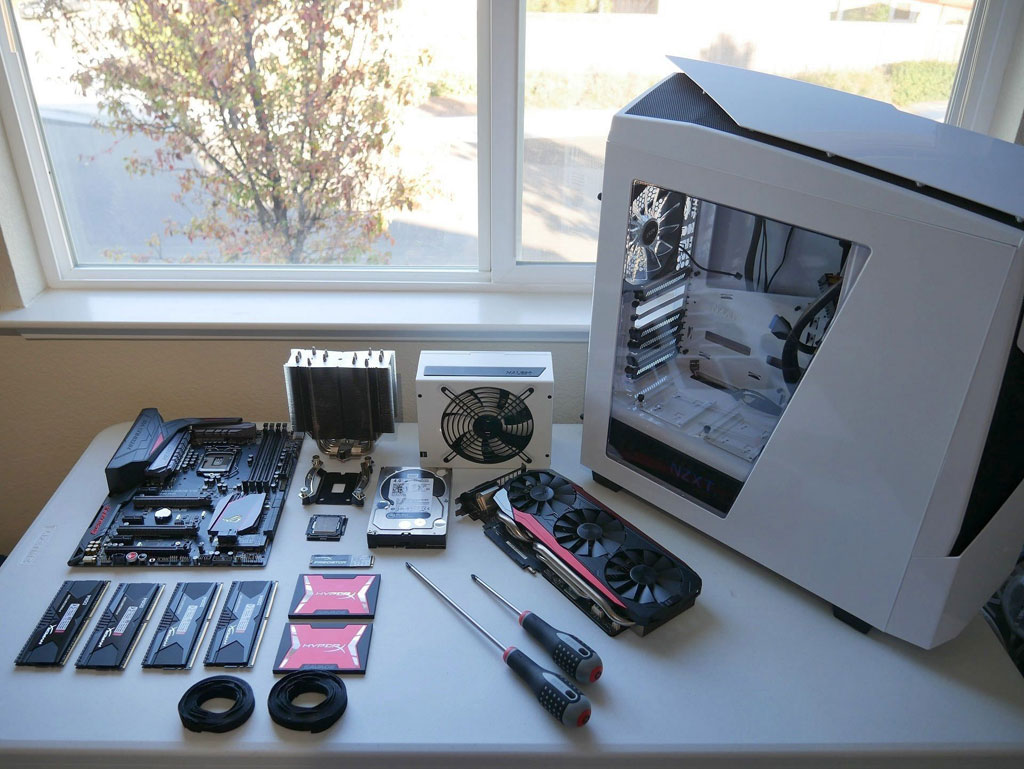 Benefits of Gaming Cases
Gaming cases offer more in terms of quality and have a better visual appeal with built-in RGB cooling fans, better cable management features and more spacing for the internal components such as aftermarket CPU coolers and graphics cards.
Many of these cases also have thermal regulators embedded on the front panel through which gamers can regulate the speed of the cooling fans and radiators for better cooling depending on the load.
On top of that, gaming cabinets offer extremely good rack management features on which to place storage devices, cutting out excess wires and avoiding human errors. They further allow better configurability and hassle-free upgradability later on with features like screw-less mounting, tool-less installation and modular component support.
Even if you are not building a gaming machine, you may consider a gaming case for looks, ease of installation, better ventilation, room for access to components and future upgrades. If you need more information on choosing the right case size, see The Different PC Case Sizes Explained: From full tower to mini ITX cases
[ss_click_to_tweet tweet="Why go for regular PC cases when branded gaming cases are available for the same price? Here are our top picks. Check them out now." content="Why go for regular PC cases when branded gaming cases are available for the same price? Here are our top picks. Check them out now." style="undefined" link="undefined" via="undefined"]
Best Gaming Cases on a Budget
While there are a lot of cases from reputed brands that carry a premium price tag, today we have some of the best budget cases for you that are more modestly priced. All of these budget gaming cases are from reputed brands and are highly rated amongst gamers worldwide. Though they are available at a fraction of the cost of pricey cases, these are still well built and pack quite a punch with adequate styling and utility features.
1. Zalman T7 ATX Mid Tower – Strong and Rugged, Our Cheapest Pick Budget Gaming Case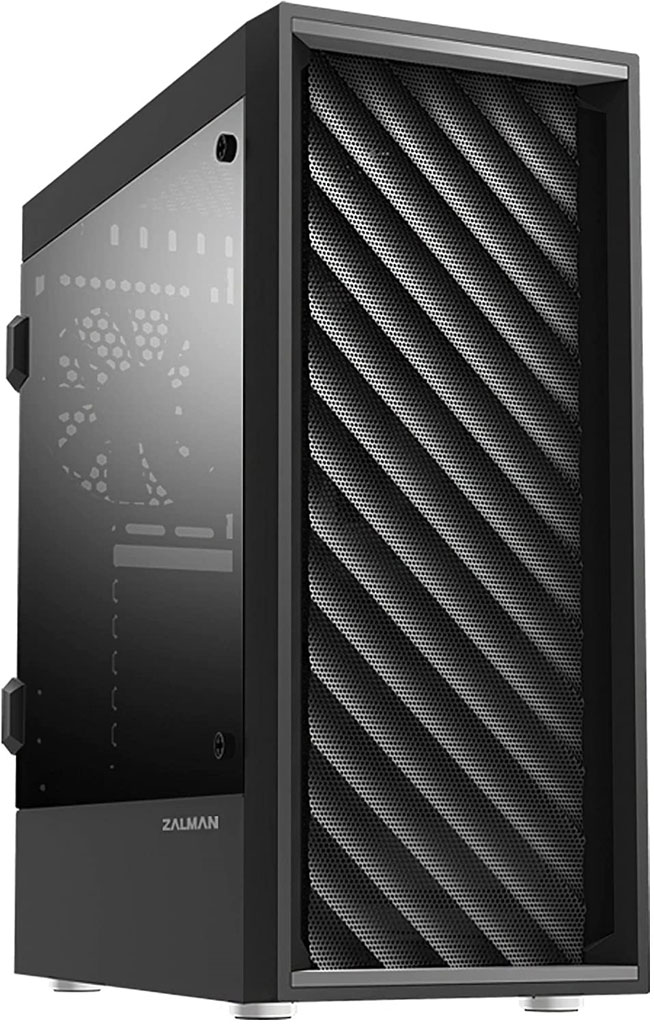 Zalman is a fairly old brand reputed for manufacturing effective cooling solutions over the years. The T7 here is one of their cheapest mid-tower gaming cabinets. It carries the pedigree of Zalman with good cooling features with the help of up to seven 120mm cooling fans, two of which come preinstalled at the front behind the mesh panel.
The T7 supports mini-ITX, micro ATX and ATX sized motherboards but tool-less installation is missing. The side panel is acrylic with a hinge operated toughened glass that can be opened or closed to access the internal components with ease.
The PSU chamber supports units up to 150mm and has two HDD/SSD combo holders while there are four standalone SSD brackets outside the PSU chamber. The maximum VGA and CPU clearances are 305mm and 160mm respectively.
On the top panel, we find a single USB 3.0 and dual USB 2.0 ports with separate headphone and microphone jacks and the usual power and reset switches. The Zalman T7 offers great stability and consistent performance in terms of keeping the thermals at bay and is a good fit if you are looking for your first gaming cabinet and running a bit low on budget.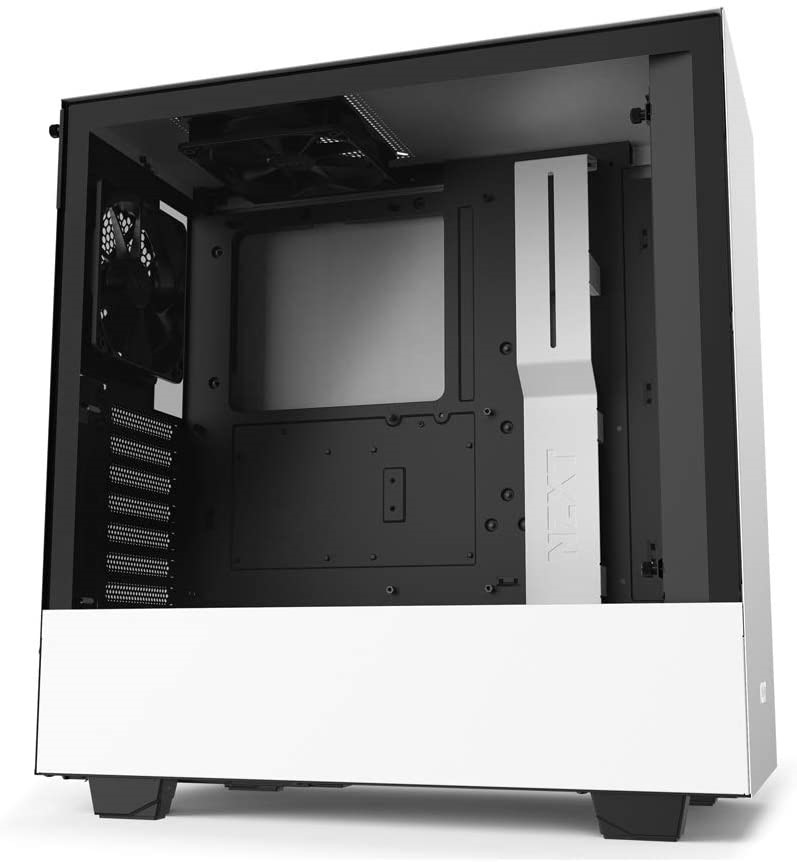 You've got to admit, the H510 looks so premium with its gloss white theme with black interior and a dedicated cable management channel. When it comes to budget picks, brands often resort to cost-cutting but NZXT has a penchant for manufacturing value for money products, the H510 is no different. It is an embodiment of what budget gaming chassis should ideally be with a single screw installation mechanism, cable management straps and a side tempered glass panel.
This mid-tower gaming chassis is made of SGCC steel and comes with large footrests to enable under the chassis PSU cooling. NZXT supplies two high speed 120mm fans, one at the rear and one at the front to enable heat management. Alternatively, you can also swap out the fans and brackets for water cooling radiators of up to 240mm.
You will love the in-built RGB and fan controller on this budget mid-tower that supports ATX, Mini-ITX and Micro-ATX boards. The H510 has seven expansion slots with provisions for three 2.5-inch and 3.5-inch storage drives. GPU clearance at 381mm is one of the highest of the lot. The top I/O panel features a USB 3.2 Gen 1 Type-A port along with a Type-C port and a headphone jack. The absence of a manual restart switch and RGB fans are the only chinks in the armour of the NZXT H510. Other colour options include, all black or black and red.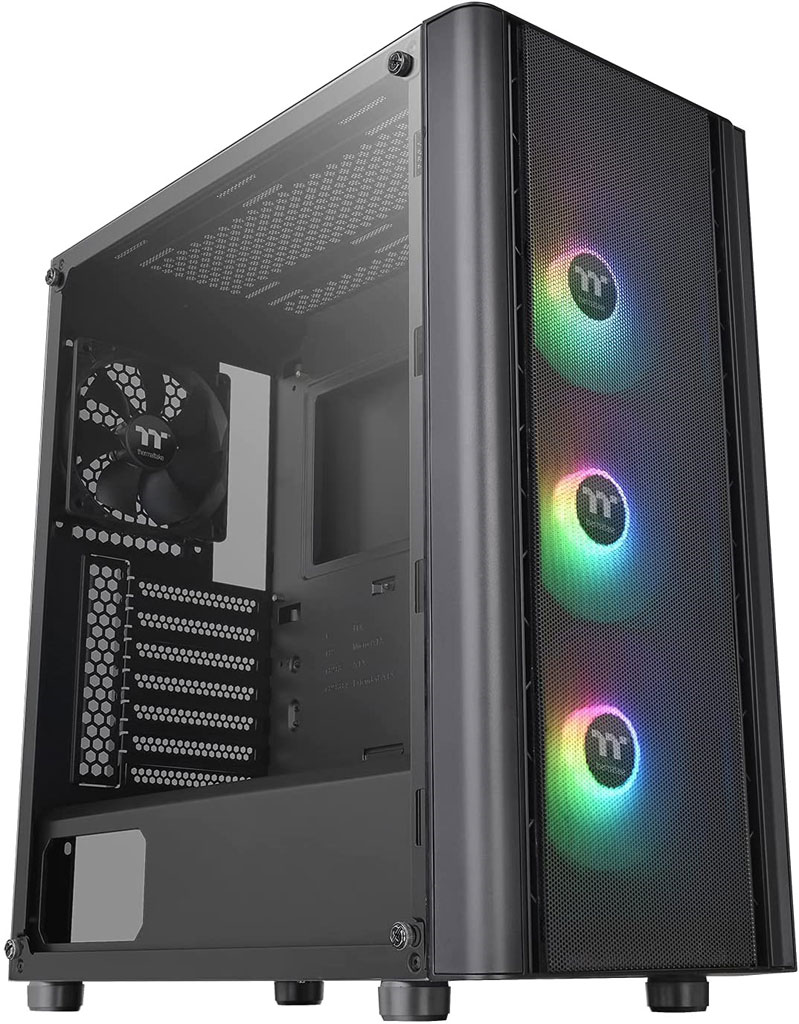 Thermaltake has around half a dozen gaming cabinets under the $100 mark that ooze style and utility. The V250 TG ARGB Air is one of the best offerings in the budget segment that offers extremely good value for money. The ventilation system in this cabinet is massive with support for up to six 120mm cooling fans or five 140mm fans. Alternatively, users can also swap cooling fans with a 360mm cooling radiator at the front and a 240mm radiator at the top.
The V250 TG ARGB Air comes with three 120mm fans preinstalled and has a 2-way RGB control manual switch on the top panel that syncs with the RGB tech of supported mainboards from Asus, Gigabyte, ASRock and MSI. With the same physical button, users can switch between 27 RGB lighting modes. Thermaltake has stuck with conventional cable management without any dedicated straps or rack.
Thermaltake's budget gaming tower supports a PSU up to 160mm with the storage rack in place. Big VGA cards are supported thanks to a 320mm clearance while users can use aftermarket heatsinks with a maximum 160mm height for their CPUs. As with most mid-tower cabinets, the V250 TG ARGB Air supports ATX, Micro ATX and Mini ATX motherboards. In addition to the RGB switch, there are two USB 2.0 ports and a USB 3.0 port on the top panel.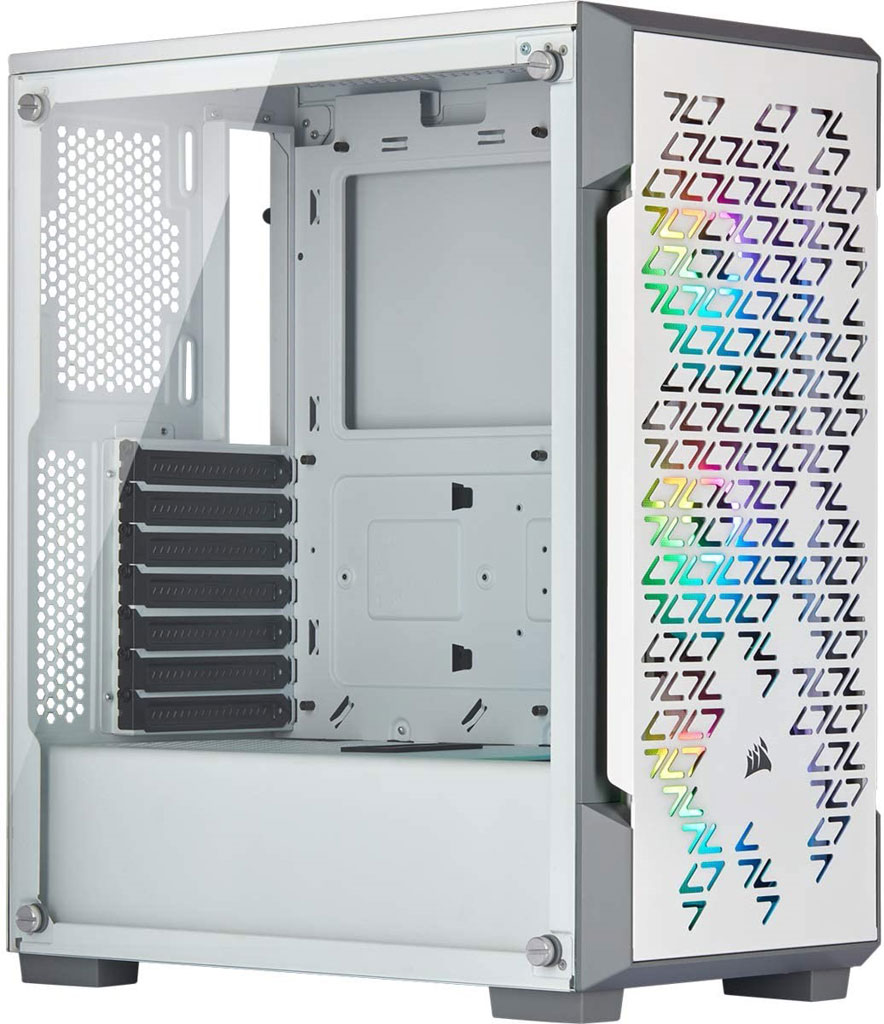 Most budget gaming cabinets use OEM cooling fans but in addition to spectacular visuals and design. Corsair iCUE 220T also comes with three high-performance Corsair SP120 RGB PRO fans. This mid-tower smart gaming case is sturdy and durable thanks to the solid steel used in the manufacturing process.
The PSU cover hides two removable HDD/SSD mounting brackets while users can mount two additional SSDs on the case itself. The case also includes a Corsair iCUE Lighting Node Core Module that supports up to six addressable RGB fans. The lighting pattern can be controlled via the Corsair iCUE application and draws power from the PSU.
The front and top cooling mesh has dust filters and supports a 360mm radiator on the front and a 240mm radiator on the top. Radiators can be swapped with up to six 120mm fans. The out-of-the-world RGB lightning effects are visible through an edge to edge tempered glass side panel with thumbscrews and a perforated front steel panel.
The case supports three main types of motherboards and has adequate VGA and CPU cooler clearance. The front I/O panel has only a couple of USB 3.0 ports, a headphone combo jack and power buttons.
If you could add a few bucks to your dwindling budget, the iCUE 220T is our best pick for its dazzling RGB effects. Brand conscious gamers can use components from Corsair to create striking RGB effects across all of their components. This case is perfect for beginner and enthusiast gamers who like sequential RGB to go along with their games.
The final pick today for our budget gaming cases is the Cooler Master MasterBox TD500 which is available in black and white colours. The front of the case features a polygonal mesh that is crafted with Fine Mesh technology.
This mesh features a three-dimensional contour that maximizes air inflow and minimizes dust intake to keep the internals cool and clean. Behind the mesh are three ARGB 120mm fans that can be synced with Gigabyte, ASRock, MSI and Asus motherboards' RGB sync technology.
The TD500 supports water cooling through 360mm radiators both at the top and front making it the best-cooled case on this list. On the side, the Crystalline Tempered Glass panel interacts with the internal lighting creating an aura effect around the case.
This case comes with the biggest clearance for video cards and CPU coolers with spaces of 410mm and 165mm respectively. TD500 supports two 3.5-inch HDD drives and four 2.5-inch SSD drives.
The front I/O panel consists of dual USB 3.0 ports and audio in/out ports. This is the only case that supports all standard motherboards including E-ATX boards. With pro cable management features and a diamond-cut side panel, the TD500 is the best you can get on a budget.
[ss_click_to_tweet tweet="Cooler Master fan but on a shoestring budget? Check out these cheap gaming cases with pro features like Aura RGB and USB-C support." content="Cooler Master fan but on a shoestring budget? Check out these cheap gaming cases with pro features like Aura RGB and USB-C support." style="default"]
Conclusion
Budget gaming cases mostly have some common features like acrylic side panels, USB 3.0 support and customizable RGB support. However, even on a budget, some gaming cases have native USB-C native support and a manual LED control switch that makes the respective PC case a must-have for gamers.
Our advice for gamers would be to stick with steel reinforced cases as they last long and are durable for heavy use. Gaming systems generate a lot of heat and though most cases have two or three 120mm fans in-built. We would advise gamers to go with 140mm fans wherever supported for better thermal management.
RELATED: How to Choose and Install a Case for Your Custom PC
[ss_click_to_tweet tweet="Never get an unbranded gaming case just because you are tight on money. Branded cases are available for the cheap too. Check this list out now." content="Never get an unbranded gaming case just because you are tight on money. Branded cases are available for the cheap too. Check this list out now." style="undefined" link="undefined" via="undefined"]